The anodized aluminum sectional flagpole is of the highest standard in its class. With a diameter of 2″ and a tolerance of only .004″ where one section fits into the next, our poles offer the strength and appearance of a solid pole with the ease of a sectional. Although the most common height that we offer is 14′, the height may be altered by adding of deleting one or more of the 24″ or 48″ sections.
With a size of 36+ square feet, the rectangle series has the largest advertising area of our different flag styles. The rotating 360 degree "stay open" arm assembly assures that your promotions demand attention and work to their fullest no matter the wind conditions.
Installation Methods
Please see instruction sheets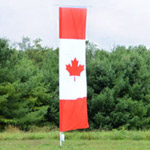 Ground Stake System
This is an ideal temporary installation method for the rectangle series flags. Utilizing a 48″ fiberglass rod driven into the ground approximately 24″ with our stability plate and bushings your flag will remain vertically straight for many days.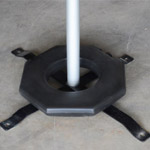 Ground Stand System
This method is for concrete, asphalt or interior purposes. For interior usage our sand ballast is plenty adequate in keeping your flag upright with the stability required for safe operation. In an outdoor situation we suggest using two or more sand bags to ensure less likelihood of a tip over.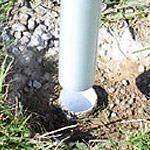 Permanent Sleeve System
The plastic sleeve is 15″ in length and can be cemented into the ground providing long term stability with ease of installation and removal. The flagpole simply drops into the fixed sleeve and is easily removed if desired to ease in flag changes, lawn cutting, etc.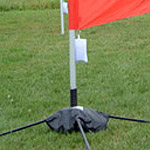 Spring Stand System
This is perfect for rooftop installations or hard surface areas that will be prone to heavier winds. Designed and manufactured by Canamex Promotions, this system offers quick set up and removal with the ultimate in wind defiance. When weight bag is filled with approximately 30 pounds of sand or pea gravel, this system can with stand winds of 50 mph plus.