Canamex uses only the highest quality materials for their mobile and portable sign products. Be it the baked-on polyester finish on the metal, the UV-stabilized PVC tracking or the good two-sided Medium Density Overlay (MDO) used for the face of the signs. Quality is never compromised.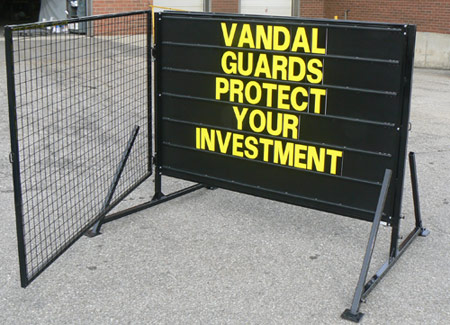 Vandal Guard Systems
Ask about our vandal guard systems. Available for all sizes.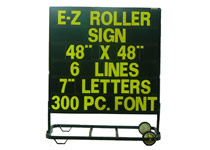 Black Portable Sign Model 4848
(E-Z Roller)
Only$719
---
Includes 300-7" characters
traffic up to 70 kmh or 40 mph
approximately 69 lbs
excellent maneuverability
fits through walk-in doors
sidewalk or street sign
can be weighted if necessary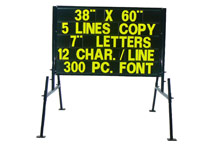 Black Portable Sign Model 4060
Only$774
---
Includes 300-7" characters
traffic up to 70 kmh or 40 mph
ideal for tight spots
approximately 72 lbs
adjustable legs & anchor system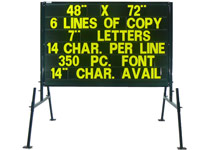 Black Portable Sign Model 4872
Only$924
---
Includes 350-7" characters or 300-9" characters
traffic up to 70 kmh or 40 mph
approximately 125 lbs
adjustable legs & anchor system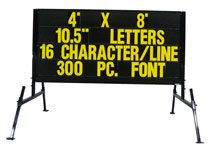 Black Portable Sign Model 4896
Only$1024
---
Includes 350-9" characters or 300-10.5" characters
traffic up to 70 kmh or 40 mph
approximately 152 lbs
adjustable legs & anchor system
can utilize 21″ lettering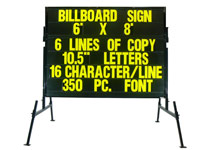 Black Portable Sign Model 7296
Only$1224
---
Includes 350-10.5" characters
traffic up to 70 kmh or 40 mph
approximately 273 lbs
adjustable legs & anchor system
VERY COMMANDING!
looks great with 21″ lettering